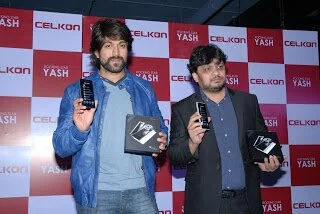 Celkon Mobiles, one of the leading Indian mobile brands with significant presence in South India has roped in actor "Yash" as its brand ambassador for Karnataka. The endeavor is to build Celkon as an inspirational brand for the youth in Karnataka and introduce technologically advanced value products in the market. During his association he will be working closely with the Celkon team for brand development and enhancing the visibility in Karnataka and south India.
Celkon Mobiles has constantly launched innovative offerings in Tablets, smartphone and feature phone categories. Established in 2009, Celkon has grown multi-fold and rapidly expanding across major territories in India and have established a strong footprint overseas in countries like Sri Lanka, Bangladesh, Nepal, Singapore in the ASEAN region and Zimbabwe, Botswana, South Africa, Namibia, Zambia in EMEA.
Commenting on the occasion Mr. Y Guru, Chairman and Managing Director – Celkon Mobiles, said, "We are pleased to be associated with Yash the leading cine star of present times. He is definitely an ideal choice as our Brand Ambassador as we are planning for further expansion in the Karnataka with exciting products combined with youthful features. This association will help us create a distinct and a brand par excellence which will attract the right audience".
Commenting on the occasion Mr. Murali Retineni, Executive Director-Celkon Mobiles said "Celkon's rich product portfolio comprising of Smart phones, Feature phones and Tablet PC's has achieved success and established us an organization with clear focus on technology and innovation. As we look to expand our footprint across Karnataka, our association with Yash is an ideal partnership for us to connect with audiences as he is the leading name in the entertainment industry."
Expressing his excitement on the association with Celkon, Yash the cinestar said, "I feel proud and happy to be associated with Celkon and I thank the management for this association. Celkon as a brand has grown tremendously over the years and has launched fantastic products. As an organisation Celkon believes in customer satisfaction and delivery. I am confident that Celkon will soon achieve greater success and will revolutionise the mobile handset market with its innovative products at amazing prices".