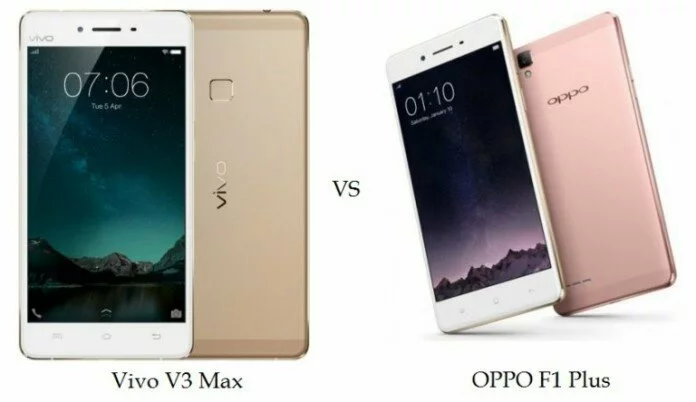 The year 2015 have really witnessed how Chinese Major brands like Vivo and Oppo have attacked Indian smart phone market and grabbed considerable share during the short stint. Taking a step further, both these brands have announced their first flagship model of Year 2016 in the first quarter itself. Vivo introduced 2 models – V3 Max and Oppo introduced Oppo F1 Plus. The launch of both these models are almost at same time and I am sure, you must be looking forward to check which one really suits your need. In this my review, i will take you thru the features, which actually matters to you as a consumer and will help you to make more informed and right decision for you.
Display Size – We love Vivo V3 Max, here
It is difficult to pick the clear winner as far as display size is concerned as both these models have got 5.5-Inch Full HD Resolution screen and produces excellent results with 1920 x 1020 Pixels resolution. In addition to the good resolution, Vivo V3 Max offers 2.5D Curved Design and also comes with Gorilla Glass protection. Vivo V3 Max clearly scores more here in Display department.
RAM & Internal Memory (ROM) – Both are same
Both devices sport 4GB RAM & having in-built memory of cool 32 GB ROM – which is further expandable up to 128 GB. The only drawback is if you want to increase the space – you may have to sacrifice with Dual Sim Functionality and you can use only one sim card.
Camera – It's Oppo F1 Plus all the way
Smartphone camera have become very integral part of our lives. Both the brands clearly understand the same and they have come up with fantastic camera resolutions with their models. Both have got 13MP Rear Camera while Oppo sports 16MP Front Camera while Vivo V3 Max have got 8MP Front Camera. Oppo gives better front camera for perfect selfies but Vivo V3 Max claims to have faster camera. During launch of the model, company showcased that you can start the camera in just 0.7 seconds. However, I like Oppo F1 more.
Battery & Charging – Fast Charging for both the phones
Both V3 Max and Oppo F1 Plus offers almost same battery capacity. V3 Max have got 3000mAh non replaceable battery while  Oppo F1 have got 2850mAh battery. Both claims to have fast charging function but I am particularly impressed with Oppo's VOOC Charging technology. If you are going to buy this phone, you will find this "fast charging" of both the phones, most useful.
Processor – Vivo V3 Max is faster
Both the phones have got Octa Core processor but Vivo V3 Max is equipped with latest process of Qualcomm Snapdragon 652 while Oppo F1 Plus have got Snapdragaon 616.
What is my choice? – It's Vivo V3 Max
It is indeed very difficult to choose who is the clear winner but I have liked Vivo V3 Max because of the following reasons:
Vivo V3 Max is almost INR 3,000 cheaper than Oppo F1 Plus
Vivo V3 Max have got latest processor
I am not a big camera resolution fan and I found that 8MP selfies are sufficient for me
Hope, this express short review will help you to make informed buying decision. You can visit just click Vivo V3 Max and Oppo F1 Plus and check the latest price and more details of specifications.
Do write us back – what do you think of these models?