Gionee India have recently introduced their first flagship mobile phone for the year, 2016 – Gionee Elife S6. Gionee Elife S6 is company's latest edition to their E-Series portfolio. Prior to this, Gionee have introduced S5.1, SPlus & S7.
We have just tried our hands this model – and here is our feedback. We got sheer disappointment if we compared the features against the price point of INR 19,990 !! But that doesn't mean that this handset is completely worthless. But just like every phone, there are some good points and some are bad !!
The video looks quite impressive and that have drawn our attention about publishing a review on the same.
Overall Feel
Handset looks pretty impressive when you hold in your hand.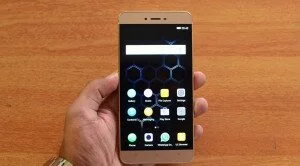 When you hold this phone in your hand, the first thing, which strikes you is it's sturdiness. Since it is all metal-clad phone, you do not feel like slippery. The all metal clad also gives a great feel of luxury – compared to many of it's competitors which are of plastic body.
Display Quality
Gionee S6 have got HD Super Amoled Display – which helps to create vivid and vibrant colors over the screen. Colors are looking pretty sharp especially, when you try to play some HD Games or videos. In addition to Super HD Amoled Display, the phone also supports Adaptive Brightness – makes it very eye friendly. In addition to the same, there is also option available for Economical Backlight – which can save some battery juice when you need it. There are multiple fonts available and you can download some more your liked fonts as well. There is option for the Fonts size change as well.
Ease of Use – What we like the most?

Super HD Amoled Display – gives great colors and very vivid images
Adaptive Brightness – adjusts screen colors as per outside light conditions
Call Quality – thanks to the noise cancellation microphone on the backside – call quality is much more better than we anticipated
Color Temperature Set Up – helps users as per their requirements
In Built Power Saver – this is really very effective power saver than other phones and we have clearly seen enhanced battery performance.
What we don't like?
Absence of Fingerprint Scanner – most of the devices from Chinese Manufacturers are now having at this price point. Absence of Fingerprint Scanner is real disappointment.
No Notification LED – Gionee should have introduced this in this phone, Esp when you are calling it flagship phone.
No Dedicated Memory Card Slot – Though the phone is coming with memory card slot option, but if you use it to expand the memory, you cannot insert second sim card. This is sheer disappointment at this price point.
No Tape to Wake Up Command or Voice Wake Up Command – This is not a major disappointment though but we still feel that adding such feature would have made customers' life pretty easy.
Bloatware Applications – Gionee have provided many bloatware apps but the good part is you can easily uninstall them to save memory.
Apps cannot move to SD Card – this is huge disappointment. You cannot move your Apps from phone memory to SD Card.
Cannot record slow motion videos – you cannot record slow motion videos in this phone, which is fast catching up among users.
No support for USB OTG – though the company claims to provide the same but when we tried to connect a microUSB OTG with the help of a USB Type-C to microUSB adapter, we were not able to connect the drive. If you are planning to buy this device, you should definitely try this before making any purchase decision. Giving optional only memory card slot and not having OTG support – is a alert before you buy !!
No Fast Charging – HD Super Amoled display is known for it's power hunger. Gionee should have provided Fast Charging facility. At least, they could have provided higher output charger than the normal smartphone chargers.
No Navigation Buttons Backlights – the phone is definitely looking good. and we are sure, your friends will keep asking you which phone you are carrying but a little no cost addition of navigation button backlight would have up the style quotient.
Selling phone at almost INR 20,000 really require to convince Indian consumers. As we are seeing many Chinese companies jumping on the value equation – We strongly feel that Gionee should not have launched this phone at this price and we clearly anticipate company to drop the prices pretty soon.
If you have bought this handset – do let us know, what you are thinking about it? We would love to hear from you.