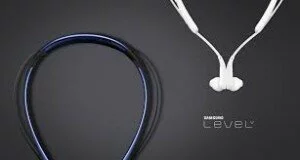 After huge success of LG's Tone Bluetooth Headsets in India – Samsung have recently launched Level U in India and priced it very aggressively at INR 2,999 only. We have just experienced the product and here is our express review for our readers !!
The product is available in two different colors in India – Blue & White. Both are with glossy finish and looking very attractive. I personally liked the white color more.
Just like any other Bluetooth headset, you can easily connect the device with your Bluetooth enabled mobile phone or tablet for your calling and music listening purpose.
When you try this headset for the first time, you may feel that you are actually trying Bose's Freestyle when it comes to fitting within your ears. The earpiece sits loosely comfortably in your ears – very very comfortable. The product do not weight much and it's horse-shoe like design do not give pain to your neck even after longer time period usage. The earplugs are of magnetic nature and when you are not using them – it got clasped with each other. You actually forget that you are carrying them and i guess, that is the major reason behind success of such kind of headsets.
The device have got 2 dedicated alternate mikes to support voice functionality of the headset. We must say that Samsung have really thoughtfully placed mikes which helps users to speak comfortably and we have experienced it while driving on the bike as well in Mumbai traffic.
A set of buttons on the right side of the neck band allow you to pause and play your music, answer/end calls, skip tracks forward and back and raise and lower the volume. The buttons are well placed easy enough to operate by feel alone.
My Verdict : If you are primarily buying Level U for voice talks – this is best choice and if you are planning to buy purely for music – you may slightly get disappointed however at as low price as INR 2,999 – this one definitely stands out from the crowed and look-alike devices.
Caution for buyers : While buying such product make sure that you purchase from the right seller and check seller credentials first. Extremely low price may land a counterfeit product in your hand. We received the unit from Bhatia Mobile.
If you are buying this – do share your experience with other readers !!